GFI OneGuard Pro Edition
Centralized network security and IT management platform for business

Sorry, this product is no longer available, please contact us for a replacement.
Overview:
Centralized IT network management software with business antivirus
Antivirus, patch management, resource management and reporting tools for business.
Real-time antivirus protection for all network devices
Jigsaw Patch management to ensure your systems are always running the latest approved software
Graph Arrow UP Asset tracking so you know exactly what resources are where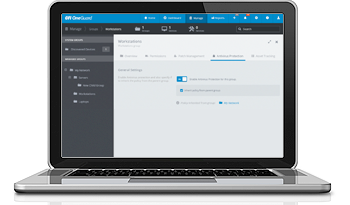 Business antivirus
Antivirus is the most fundamental security function, critical to keeping connected machines safe from malware. Using the leading AV engine powered by Kaspersky Lab, GFI OneGuard delivers real-time protection from the latest threats. Using agents installed on each device and managed from a central dashboard, you can control scans, updates and every aspect of virus protection.
Patch management
Software updates are an essential defense mechanism for IT as well as ways to add features, fix bugs and optimize code. It is also a huge resource overhead that takes time and expertise to perform. GFI OneGuard uses proprietary GFI LanGuard technology to monitor patch status and roll out patches to hundreds of machines at once. You have full control of this platform as patch management can be fully automated or manually controlled according to need - all from a simple centralized UI.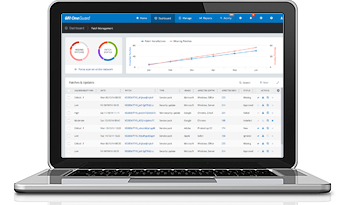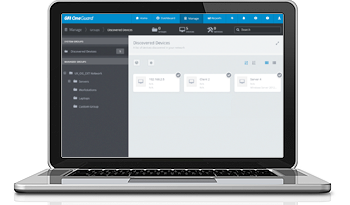 Asset tracking
Keeping track of what exactly you have connected to your network and where it is located for network configuration purposes can be quite a challenge. GFI OneGuard makes this process easy thanks to our device discovery engine which crawls your network to audit windows devices that are connected. It can track and report hardware, software, patch levels and so much more, even on remote systems!
Features:
Antivirus
System security through protection and awareness is at the core of GFI OneGuard. That's why we integrate Kaspersky Lab antivirus at the centre of our solution. Kaspersky Lab is one of the leading, and one of the most respected providers of antivirus solutions. The antivirus within GFI OneGuard delivers real-time protection for all your connected Windows devices. Install an agent on each machine and control everything from the console. It's an elegant, yet powerful way to protect your network.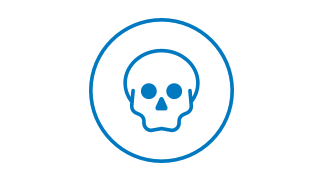 Patch management
Keeping up with software and OS patches on a busy network is a vital task of any IT admin. Yet with multiple operating systems, device types and requirements, how are you going to manage everything? GFI OneGuard can help. The patch management element of GFI OneGuard allows you to scan the network for all connected devices, check what software is installed, detect any missing patches, broadcast updates when and where you see fit.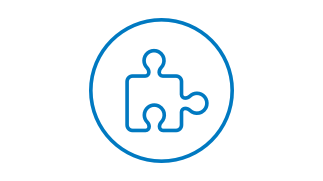 Asset tracking
To effectively manage a network, you have to know what's truly in it. That's where asset tracking comes in. GFI OneGuard makes it easy to identify and track every connected device on your networks anywhere in the world. Perform network and software audits from the console and leave the system to manage everything. GFI OneGuard will seek out and assess every device it finds and report back on what and where it is, what software it is running, whether it has any vulnerabilities and dozens of other metrics.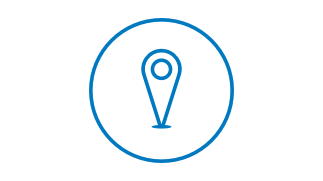 EndPoint Control
Reduces the risk of data leakage by identifying assets that pose a risk and suggestions to boost security. Assess and control sensitive information that travels across endpoints by scanning all files for information susceptible to a security breaches. Finally you can control who can access portable storage devices in general as well as storage devices by class, file extension, physical port or device ID from a centralized dashboard.
Reporting
Reporting is the one way you can make sense of masses of data. Whether you need to analyse resources, report on hardware or software, prepare a business case for upgrades or a multitude of other reasons, the reporting engine in GFI OneGuard can provide it. A wide variety of reports are available for use which have the necessary filters to customize to the data you wish to extract. Reports can be generated in PDF or Excel giving you all the flexibility that is required.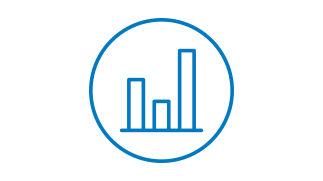 Messaging
Lack of communication/alerting on system events, outages or downtime will be a thing of the past with GFI OneGuard's messaging tool. Administrators can broadcast messages to all users, groups, departments or whoever they like within your network to let them know about downtime or alert to critical issues. The messaging component of GFI OneGuard is a small but very important element. While it may not pack the punch of antivirus, it is the one method to keep users and managers happy and up to date with what's going on.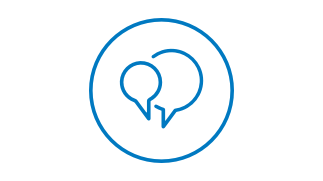 Licensing model
One of the major advantages of using GFI OneGuard vs. traditional point solutions is that as an administrator, you also gain from much simplified licensing procedure. Instead of having to deal with different vendors, with different billing/invoicing methods, and the financial/legal paperwork that ensues, you will be billed for the services used only once for the duration of your agreement. Just one invoice/bill per year for everything you need to keep the network in tip-top shape.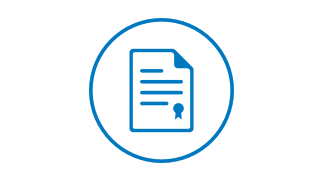 Remote Shutdown/Reboot
This sounds like quite a basic feature, but in reality, you will be surprised of how often this is needed. No need to call up the user… asking them to restart. Administrators have the ability to remotely force shutdown a machine, and GFI OneGuard takes care of alerting the users and giving them notice as well as a countdown when the action will be taken.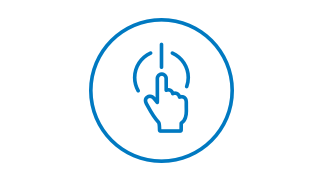 Can be installed… anywhere!
GFI OneGuard is not an on-premise only, or a cloud-only platform – it can be deployed any way you like it. It can live wherever you want it, in any way your infrastructure demands. No other solution in the market is as flexible as this.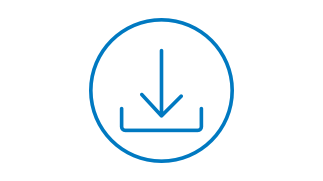 Infinite possibilities
These core services are just the start of what GFI OneGuard platform will ultimately become. Other services on the product roadmap include device control, server and services monitoring, web filtering and event log management.The platform and all of its services will constantly evolve with new tools and services to help you manage your business networks efficiently and with minimal effort.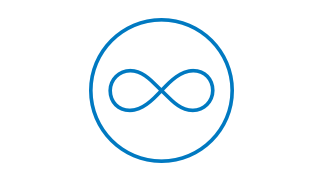 System Requirements:
Hardware requirements
Processor: 2GHz Quad Core or better processor
Memory: 8 GB RAM (dedicated to GFI OneGuard)
Physical storage: 8 GB required for installation only.
Software requirements
Supported Operating systems (64-bit only)
Windows Server 2016
Windows Server 2012 (including R2)
Windows Server 2008 (including R2)
Windows 10
Windows 7
Windows Small Business Server 2011
Windows Essential Business Server 2008
Windows Small Business Server 2008
Supported web browsers
Internet Explorer 11
Microsoft Edge
Google Chrome
Mozilla Firefox
Safari
Supported database backends
Microsoft SQL LocalDB: Up to 500 managed devices
Microsoft SQL Server Express 2008 R2 or later: Up to 500 managed devices
Microsoft SQL Server 2008 R2 or later versions: Up to 10,000 managed devices Up to 10,000 managed devices
Microsoft Azure SQL: Up to 10,000 managed devices.
Other required components
Domain: The server where the Platform is deployed must be joined to an Active Directory domain
Internet Information Services (IIS): Required to access the GFI OneGuard web interface. If not found, this is automatically installed by GFI OneGuard during installation
Microsoft .NET Framework 4.5.1: If not found, this is automatically installed by GFI OneGuard during installation.
ASP.NET 4.5.1: If not found, this is automatically installed by GFI OneGuard during installation.
Windows Firewall: Ensure that in the Windows Firewall with Advanced Security > Inbound Rules the Rule File Printer and Sharing(Echo Request - ICMPv4-In) is allowed.
Third-party Firewalls: These settings may vary according to the model of the firewall. Some firewalls exempt certain protocols or services. In those cases, you must enable ping. Some firewalls call the setting Ping or Incoming Ping. Others refer to it by its technical name, ICMP Echo Reply. Either way, allow this protocol.